Farm Holidays at the farm Obermicheler
... for us the most beautiful place on earth!
Enjoy the sun
... it shines till late in the evening
Passion for Horses
... because we think riding is the best solution for every problem
Surrounded by Meadows and Forests
... a place to switch off in perfect peace
Welcome at the Obermichelerhof!
We are happy to have you on our website. We like to invite you to discover this website and are looking forward to hopefully see you soon in our little paradise.
Karin and Konrad with Marta and Olivia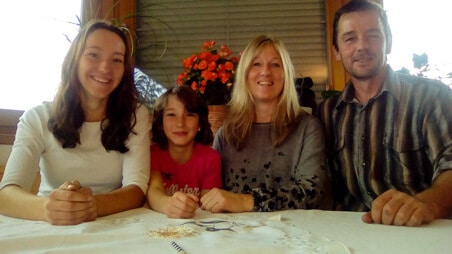 Holiday on our farm in Verano near Merano.
Welcome to your holiday at the idyllic Obermichelerhof in Verano near Merano. Enjoy the sunny plateau Monzoccolo, picturesque landscapes, meadows and forests. In the middle of all of this in the countryside is our farm, the Obericherlerhof on 1400 meters above sea level. It is a paradise for hikers, bikers, fans of winter sports and horse enthusiasts. Particularly children will love this place: there is a lot to discover on our farm, an open playground and the possibility to pet animals.
The Obermicherlerhof is a wonderful place to relax, to calm down and to recharge your batteries.
Living at our farm Obermichelerhof.
Up until now we only had one flat (Ifinger). Due to a high demand we decided to build 3 more flats, which are ready in July 2018. To make your stay as comfortable as possible, we used a lot of materials from nature. All flats are spacious and very sunny. Have a look....
quiet location
numerous animals
do handicrafts
holiday with horse fans
enjoy handmade products
discover the farm life
You would like to know what other guests think about a stay at our farm? Or you would like to give us a comment about your stay? Please follow this link to leave a comment.
see our reviews
Haflinger Horses in Verano
Horses have a special significance in Verano and surrounding villages. The horse breed "Haflinger" stems from the neighbour village Avelengo, even though the first "Haflinger" was born in Sluderno in Val Venosta. The beautiful blonde horses are to be found everywhere in Verano and Monzoccolo. Even on your arrival here in Verano, Avelengo, Meltina and San Genesio Atesino you will see a horse statue. At our farm Obermichelerhof you can get to know female horses Tara, Pascha, Otina and Zenyatta.
More information to horse riding on the Obermichelerhof can be found here.
Going on holiday? Come to the Obermichelerhof in Verano near Merano.
Holiday on a farm in Verano near Merano is a wonderful experience. Our little village is located on the sunny plateau Monzoccolo and is one of the sunniest villages in South Tyrol. Away from a hectic and stressful lifestyle you will find calm, rest and peace in nature.
Rural culture and hiking in Verano
There are many farms in Verano. This allows to experience rural and cultural traditions. Some of the farms still have thatched roofs, which are rare to see in South Tyrol. Verano is a great place for hiking, particularly for families. There are many chalets to discover. Most hiking paths are suitable for walks with buggies and children. You can start your walks from our farm too. The "Knottenkino" and "Stoanerne Mandlen" are some of the most spectacular tourist attractions here in Verano. You can reach both of them easily from the Obermichelerhof.